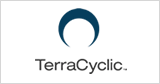 Terracyclic's unique Sanitary Waste Disposal Unit, has a totally disposable 'lid and liner' cartridge system that means: no cleaning. Less waste, cost savings and an overall reduction of energy use.
"What makes this sanitary system so unique?
No other Sanitary Waste Disposal Unit offers so much. Our unit has a streamlined design, a uniquely biodegradable and disposable 'lid and inner cartridge' system and offers a range of retrofit options to deliver a solution that is perfect for your requirements.
A system that is environmentally friendly
Our uniquely replaceable and disposable 'lid and liner cartridge' cleverly integrates biodegradable additives into our plastics. Our compact design reduces the environmental impact of transportation and our Carbon Footprint Accreditation is evidence of our commitment to the environment.
Our system is ideal for businesses of all sizes.
It's ideal for commercial offices, factories, shopping centres, hospitality, recreational facilities, function venues, sporting facilities, in fact anywhere with a need for sanitary waste disposal unit. It also holds more sanitary waste than you'd expect, due to its sleek and efficient design considerations."