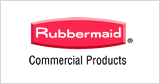 "RUBBERMAID MATTERS. Successful professionals have learned to trust Rubbermaid Commercial Products to deliver money-saving innovations, with best-in-class performance and quality. When you choose products carrying the Rubbermaid Commercial Products brand, you are choosing the best value for your money, and communicating that your business maintains the highest standards.|
Rubbermaid Commercial Products is committed to helping facilities deliver a positive experience for washroom patrons and clean, coordinated dispensing systems is a key contributor to that experience.
Rubbermaid currently offers a premium range of matching dispensers for air, surface, and skin care".